What is a Service Dog?
A service or assistance dog provides disabled people with the direct help they need to perform daily tasks and live as independently as possible. Because these highly trained animals are allowed in most public places, they enable their "people" to be in those places too, expanding their independence. Unlike therapy dogs, service dogs usually live permanently as companion animals with the clients they serve. In general, service dogs and their training in the U.S. are regulated by the Americans with Disabilities Act (ADA).
---
What Does a Service Dog Do?
The first service dogs were "seeing-eye dogs" trained to lead the blind. Today some service dogs are still trained to help the visually impaired while others learn to assist the hearing impaired and the mobility impaired. Because dogs have a "sense" of what is going on in the human body (thought possibly to be associated with their sense of smell), dogs can also be trained to alert epileptics to impending seizures and diabetic and hypoglycemic patients to an oncoming drop in blood sugar. The patients can then take proper precautions.
Other canines have been trained as psychiatric and neurological service dogs. They aid clients suffering from such conditions as panic attacks, depression, Post Traumatic Stress Disorder, severe anxiety, crippling phobias and autism.
---
How Is a Service Dog Selected?
Dogs to be trained for service are often furnished by breeders. Either the breeder or a volunteer puppy raiser cares for the dogs until they are old enough to start formal training. In some cases, the dogs are rescued from animal shelters.
To be selected for training, the dogs should be healthy and of an appropriate size for the tasks they will be taught to perform. These animals must be intelligent, sociable and trainable. The ADA does not require that the dog have the Canine Good Citizen certification before going into formal training. However, the dog must be potty trained and have basic social skills and good manners.
---
How is a Service Dog Trained?
Although an owner or handler can train his or her own dog, this is not usually recommended. Most formal service training is done in professional facilities by certified trainers.
Training can take months or years, depending on the complexity of the tasks the dog will be required to perform. The first level of basic service dog training includes obeying simple commands, learning common working positions and working on a leash. The most important thing a dog learns at this level is to stay focused on a task despite distractions. At the next level, the dog goes on to specific training based on a particular disability. He or she must learn to perform at least three tasks to mitigate that disability. For example, a dog may be trained to pull a wheelchair, open doors and fetch objects for a mobility impaired client.
Before clients receive a service animal, they too must be trained to handle the dog and demonstrate that they understand how to care for the needs of a canine companion.
---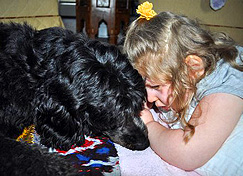 Why is the Australian Labradoodle Particularly Well-Suited to Service Work?
Bred from a Standard Poodle and a Labrador Retriever, the Australian Labradoodle has the size, strength and energy needed for service work. The breed demonstrates the intelligence and focus required for training and the sociability, loyalty and stamina demanded for working with disabled clients. The dogs' non-shedding, hypo-allergenic coats make them pleasant companions in the clients' homes.
---
How Are Barksdale Labradoodles Involved in Service Work?
The first Barksdale Australian Labradoodle to go into canine assist work was Ranger, who was trained to help a client with mobility problems. Realizing the breed's potential to help the disabled, Barksdale Labradoodle co-owners Al and Jacqueline Gordy then donated another puppy, Barksdale's Amazing Grace (Grace) to Service Animals of Mississippi (SAM).
At one time, The Institute for Disability Studies at the University of Southern Mississippi (USM) was receiving grant money to work with SAM, training and placing the dogs with clients. The SAM training facility at USM was the only such facility in a three-state area, and the Gordys were happy to have such a program established only 45 miles from their home. While they were not directly involved in the training as they must be in the therapy work, they were able to assist as advisors in the placement of the dogs.
Grace was selected for training as a seizure alert dog. Grace will graduate in the fall of 2011, but she is already living in-home with her new family and working with her "person," a young autistic girl. In this situation, Grace will of course be on the alert for seizures. But she will also provide companionship, motivation to try new experiences, and stimulation through touch for her new friend.
During this time, another Barksdale Australian Labradoodle was trained to aid a mobility impaired client. This dog can even open the client's dryer and get out clothes! Another Dood has gone to help another severely autistic child. Even Barksdale's "First Dood", Smooch, gets into the act. When he isn't working as a therapy dog, Smooch is sometimes used to train human clients before they received their own service dog.
Furnishing puppies for training as service dogs has become another of the missions of Barksdale Labradoodles. Al Gordy said, "Providentially, we are now able to supply one Australian Labradoodle from almost every litter for training and placement."
Unfortunately, the Institute for Disability Studies has lost its grant. Al says, "This has caused us to make a philosophical change in how we get Service Doods out there. We are now directly placing the Little Doods (still generally one out of a litter) directly into the home that needs a service canine." In the last litter, a puppy was chosen to go to Mexico City for a child with selective mutism. The Gordys are not able to give all the guidance and help in these long-distance situations that they were accustomed to giving, but Al says, "This is still evolving and changing case by case."